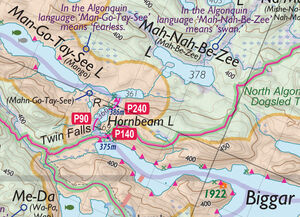 Hornbeam Lake is located between North Tea Lake (the Mangotaysee Lake or arm) and Biggar Lake in the Northwest area of the Park.
There are no campsites on this lake.
Points of Interest
Edit
At the south end of this small lake are twin falls. If the water flow is slow enough, the rock separating the twin falls is a nice place to stop for a rest or snack.
Ad blocker interference detected!
Wikia is a free-to-use site that makes money from advertising. We have a modified experience for viewers using ad blockers

Wikia is not accessible if you've made further modifications. Remove the custom ad blocker rule(s) and the page will load as expected.